seaside-resort1403-luxury-oceanfront-end-unitresort-amenities
seaside-resort1403-luxury-oceanfront-end-unitresort-amenities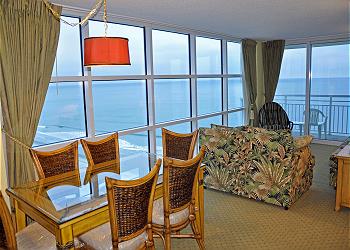 SEASIDE RESORT1403 Luxury Oceanfront end unit..Resort Amenities,
https://www.carolinaresortsrealty.com/vacation-rentals/properties/seaside-resort1403-luxury-oceanfront-end-unitresort-amenities/
SEASIDE RESORT1403 Luxury Oceanfront end unit..Resort Amenities, | NO. MYRTLE BEACH Vacation Rental
If you are looking for the finest rental unit in Myrtle Beach you have to check this unit out... totally renovated and remodeled oceanfront, corner end unit located in the Crescent section of North Myrtle Beach... no expense, none! was spared to make this unit the from 73 inch flat screen TV in the living room and 50 inch TVs in all bedrooms including FREE WiFi. If you are renting at Sea Side you have got to check this Owner has set the unit up with a sectional sofa on one end of the living room facing the big TV, dining table for 6 plus bar stools, and a second seating area on the oceanfront! What is amazing about the end units on this property with the 3BRs is the floor to ceiling windows that run from one end of the living room to almost the other! Great attention has been given to your comfort in the eye grabbing stunningly gorgeous condo that the owner meticulously maintains. The living area is wall to wall windows and the views are extreme

Seaside is a boutique style condo and hands down the best property in North Myrtle Beach... the property has every amenity including Wi-Fi, indoor and outdoor pools, Jacuzzis, lazy river, onsite restaurant all wrapped up in the most attractive building exterior on the beach... This is one of only 68 units and all three of the units we rent at Seaside are the best units in the building.

Unit is rated a Luxury Rental

(This property does not allow boats, trailers nor motorcycles. You may ONLY have parking permits for up to 2 vehicles. Also pets are not allowed nor is the discharge of fireworks from the property, nor is the use of laser pointers.) UNIT DOES NOT ALLOW SMOKING AND IS DESIGNATED A NON-SMOKING UNIT. This unit has a minimum age requirement of 25 years of age and the booking is to a group of individuals then all persons in a group have to be over the age of 25 years. This does not apply to mother and fathers with children albeit in those cases the parents must be over the age of 25. Rental Agreement is required! This will be emailed to you and must be returned by fax, USPS or by email
*Rates can vary depending on the number of nights
Nightly
Weekly
1/5/20 - 2/7/20
$298
$1,165
2/8/20 - 4/10/20
$365
$1,202
4/11/20 - 4/17/20
$262
$1,321
4/18/20 - 5/8/20
$376
$1,277
5/9/20 - 5/15/20
$260
$1,321
5/16/20 - 5/22/20
$327
$1,277
5/23/20 - 5/29/20
$251
$1,470
5/30/20 - 6/5/20
$333
$1,947
6/6/20 - 6/12/20
$347
$1,947
6/13/20 - 6/19/20
$364
$1,947
6/20/20 - 8/7/20
$390
$2,216
8/8/20 - 8/14/20
$315
$1,768
8/15/20 - 8/21/20
$288
$1,768
8/22/20 - 8/28/20
$236
$1,247
8/29/20 - 9/18/20
$298
$1,202
9/19/20 - 10/9/20
$288
$1,172
10/10/20 - 11/14/20
$365
$1,202
11/15/20 - 1/2/21
$288
$1,202
Thank you for entering your review. The review will become available to the system shortly.
19
19
Overall Rating:
4.6316
4.6316
Beautiful views, needs some upgrades
Rating:
1
4
5
The views were incredible and furnishings were comfortable. I expected the appliances to be of a higher quality. The stove, refrigerator and microwave were old, broken, and rusty. The sink in the kitchen was tiny. Since we stayed over Thanksgiving, this made cooking difficult. Overall, a nice place to stay but could use some upgrades.
Great place to stay
Rating:
1
4
5
Stayed her 3 times. Always clean. Great area with great restaurants.
What a view!
Rating:
1
5
5
Perfect for three adult women who want to spend the week together and still have there own bed/bath. We all golf in the Myrtle Beach World Am and this was the perfect place to return to ea h day. We loved the balcony and view of the ocean. Each room had a tv and there was plenty of space to gather in the living area to discuss the day. We used the pools and lazy river. They are kept clean and clear of debris. Steps from the ocean made the beach enjoyable and we made use of the public chair rentals right in front of the resort. The staff at the resort are friendly and helpful. The overall condition of the resort is very good. The parking is tight. Spaces are small and I couldn't make the corners without backing up a few times.
Cleaning staff was spotty. Coach cushions had a lot of crumbs, socks and trash found under the beds, mildew and grime in jacuzzi tub. However the rooms always smelled good and fresh when we entered each day. AC worked great and we all stayed comfortably cool day and night. We would all stay here again.
Family Vacation June, 2019
Rating:
1
5
5
Relaxing fun with family.
A Gem with an Amazing View
Rating:
1
5
5
We have been visiting N. Myrtle Beach for the past 25 yrs. This condo, by far, was the best we have rented. The main living room is very spacious. There was six in our group and plenty of space to lounge around. Because this was an end unit, there was a bonus "wall of windows" that gave a beautiful view. This unit was well maintained and extremely clean. We will return to this unit in the future!
Family Has a HOT time @ Crescent Beach
Rating:
1
4
5
We booked for a family, Grandkids and Great-grand son for Memorial Day Weekend. Had no idea it was a Bikers' Weekend! Lots of noise and limited parking on site, but by Memorial Day Eve, most of the bikers had departed. Not many went to the beach! The accommodations and facility were great and we enjoyed the view and rather quiet beach! The week was very hot (100+) in afternoons which was unusual. Recommend this unit for a family affair and the quieter side of an ocean stay!(After the bike weekend, which one would think might be better on a non-holiday weekend)!
Perfect family vacation
Rating:
1
5
5
This is the third year in a row that we have rented this property. It is perfect for a family and allows for an environment where we can enjoy being together but also allow for some space for some alone time as well. The view is spectacular at night and the location is just right for the places we usually frequent.
Vacation In The Sky
Rating:
1
4
5
Had to be talked into staying on the 14th floor but glad I relented..there is something appealing also with down low and close to the sounds of sealife but have to say enjoyed this unit just as much in a different way... the living dining area was wonderful...one side was a comfortable tv viewing area and on the other side was all glass seating area to just take in the view, read, conversation and just meditate..these two areas were separated by the dining table and was enough distance that each activity wasn't disturbing the other.. we did all our meals and the kitchen had what we needed to do that.. the mattresses on the beds weren't ideal...not of good quality it seemed and the sheets were to small and would slide a suggestion would be nice if the beds didn't have spreads and all bedding could be laundered each time like motels...with just a scarf across the bottom.. so much information has been provided for us that spreads carry a lot of fluids no one wants to think about sleeping with...however, I just took them off and put in the closet during our stay but didn't like touching them..bathrooms were very nice and clean..loved the hall reclining tub...big and roomy..the parking deck was tight and the spaces were on an incline. We had breakfast one morning at the resort and it was typical motel and the staff were very nice and accommodating. Those pools inside (out of the sun) and out and lazy river were wonderful..the inside pool area was open to the outside so the areas blended together beautifully. We had one problem with a sliding glass door to the patio and maintenance was there the next morning to fix it...we arrived after the office closed and was able to reach staff to get extra parking and pool passes fairly timely. Overall we had a very enjoyable time staying in this unit and will most likely call again.
Fantastic views,
Rating:
1
5
5
Great place, well stocked kitchen, microwave needs replaced. Building next door full of yapping dogs all day
Great condo!
Rating:
1
5
5
This was our second time in this condo. It has the most amazing view of any we have stayed at in North Myrtle. Loved it!
Seaside 1403
Rating:
1
4
5
We love the view and the number of windows in the unit. Master bedroom is oceanfront- love the sound.Also like that parking is under the building. The pool area was being revamped but opened ahead of schedule and turned out beautifully. Pool temperature was perfect. We had some maintenance issues that were taken care of by Carolina Resorts Realty but not always promptly. We provided light bulbs as several were missing on our arrival. We also spot cleaned the carpet which I feel should be done before arrival. Overall, we overcame the shortcomings and enjoyed our vacation as always
dis-appointment
Rating:
1
5
5
We were very pleased with the rental and looking forward to spending the week but were sad that we had to leave because of Florence. That's why I contacted Carolina Realty to reserve the same room.
My Family Vacation....
Rating:
1
5
5
This was our 2nd stay in this condo 1403, and we love every minute of it. The views are just beautiful, the pool is very clean and comfortable. We love to walk down the beach to Molly Darcy's, which we did a lot the food was very good no matter what you choose. We seen dolphins out in the distance which my grandkids loved. If I would say anything negative it would be maybe a paint job, and maybe vacuum out the vents and dryer area, other then that very, very clean We can't wait to go back
Nice room GREAT VIEW
Rating:
1
5
5
Our rental came with towels, but we were not sure if they would bring clean ones or if we had to wash them.Called the house keeper who's number was in our envelope but got no big deal. Still loved the place. Would definitely stay there again.
A-1
Rating:
1
5
5
We loved the Condo the view was awesome spacious GREAT home away from home. Looks just like the pictures. When we entered we were very happy. Wished the rental agency would of called when Condo was ready Almost 5:00 before we got keys. Family gave cell number to call never got a call. When I got to beach I came to agency got keys. Beach was nice not crowded for July. We all said one of our most restful fun vacations.
Ideal Family Vacation
Rating:
1
5
5
This is the second time we've rented this property. We are a family of seven and the space is large enough for everyone to be able to spread out but cozy enough for everyone to enjoy watching a movie and making a delicious meal. The view is really great especially at night when the coastline is all lit up. We're ready to reserve again for next year!!!
Most incredible view in N Myrtle Beach!
Rating:
1
5
5
One of the best condos we've ever stayed in anywhere. Entire facility is very family friendly. Best view ever!
Seaside Resort Stay
Rating:
1
4
5
Very nice place to stay. The unit was spacious and clean.
1403, a beautiful place
Rating:
1
4
5
Only have one complaint and that is the management at the resort itself. Our key failed to work at least three times (due to placing it close to a cell phone)and after the 2nd time the manager refused to let his employee rekey it. We had gone to a dinner show and since we were all together we only took one key. That key would not work when we returned and we were locked out. The manager was very disagreeable and said we would have to take it to the office of Carolina resorts. We called you and you said you had no means of rekeying the card. Our rental agreement states that the resort office downstairs would take care of it if it failed to work. We loved the condo but the management of the resort stinks. The lady at the desk was very nice and did everything she could to help us. Eventually the manager told her to rekey the card. Our thanks to the lady in the resort office.
Your request has been sent. We look forward to meeting all your vacation needs!
| | |
| --- | --- |
| Sleeps | 8 |
| Bedrooms | 3 |
| Baths/Half Baths | 3/0 |
| Property type | Condominium |
*Rate includes linen, departure and admin fees.
Carolina Resorts Realty
1021 Sea Mountain Highway # A1
North Myrtle Beach, South Carolina 29582
ph: 843-249-6509 / fax: 843-249-5034